Klaipėda once again invited to create advanced solutions for the port of today and the future. The hackathon "Portathon 2022" organised for the 4th time brought together the teams from business companies, innovators and start-ups from Lithuania and abroad.
The hybrid event took place on the 30 September – 2 October at Klaipeda Science and Technology Park (Lithuania) and on virtual platform. Hackathon participants traditionally dedicated 48 hours to generating solutions.
Over 100 participants tested their powers in the two-day technological solution generation marathon. Teams actively addressed challenges presented by Klaipėda ID and Klaipėdos miesto savivaldybė which called for solutions to monitoring, data collection and analysis of the port city street cleaning process, as well as making proposals covering digitalized sewage from development of a level monitoring system to help prevent possible incidents of lagoon pollution.
After the final presentations, the teams "VTDK maketistai-paketistai" from Vilnius College of Technology and Design , "BalticG&TA" from the Klaipeda Baltic Gymnasium, "EcoKlaipPort" from Klaipeda State University of Applied Sciences and Klaipeda University, and "Kiaulės nugara" from Tech enthusiasts, were recognized as the best ones and distributed a prize fund aiming for 4000 EUR.
We are proud of our students Aissa and Raraa who participated in this competition as "EcoKlaipPort" international team and won 1000 EUR prize. They chose the challenge presented by Klaipėda Port. The team has provided a solution of a smart synchronized traffic regulation system that would enable to evaluate city transport and freight flows that are carried by ships, railways and trucks and help regulate them so that smooth transport movement is ensured by avoiding congestion, unforeseen heavy transport parking and increased pollution.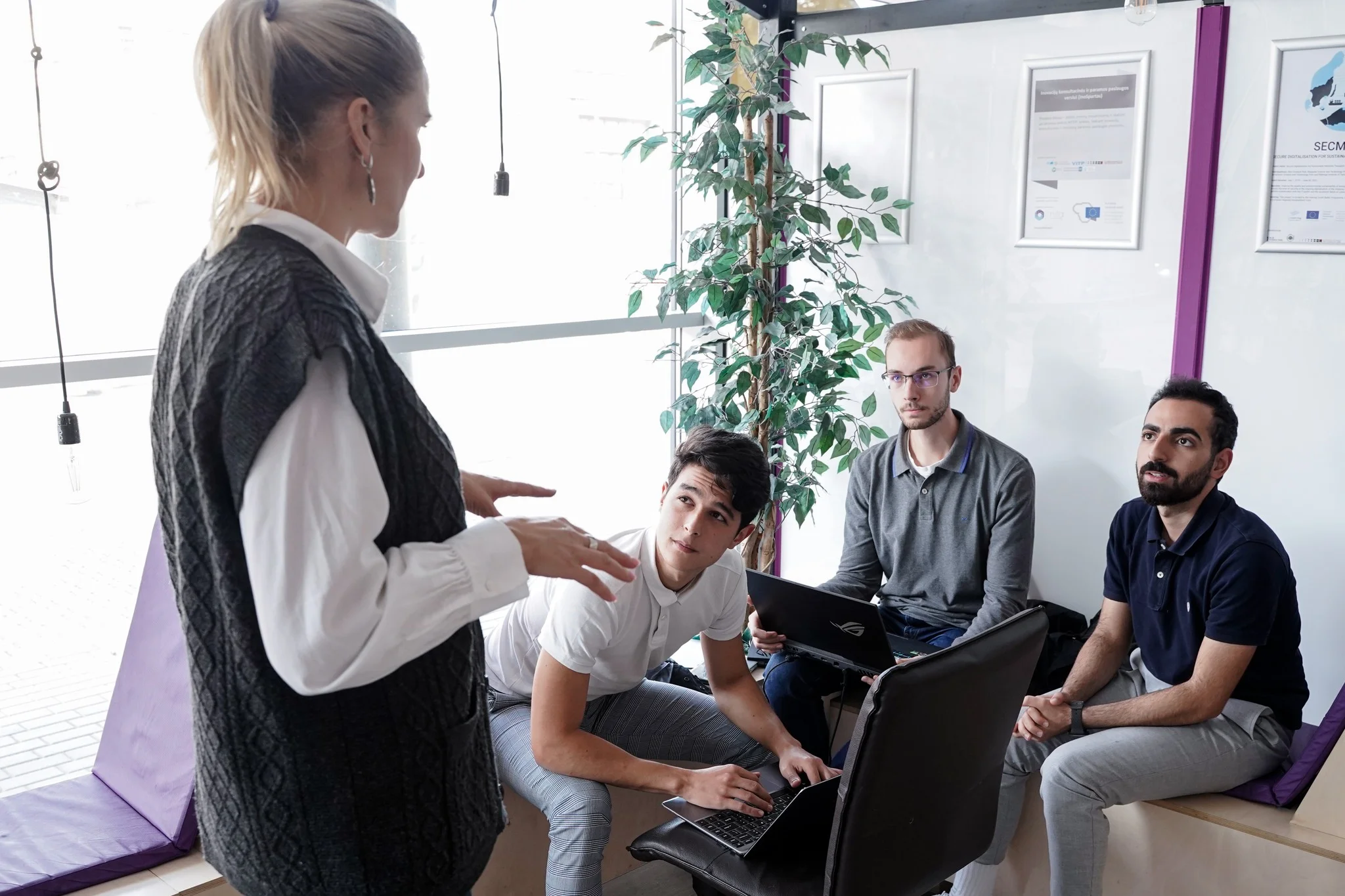 " The Portathonas recalls solving Klaipeda city's problems, after we fell in love with  this city, we felt that's our problems too. We attended it to make Klaipeda a better place to live", Raraa, Electrical and automation engineering student, shares their decision to participate in the competition. "Portathonas is a very conducive place for networking, we met a lot of people, gained a huge experience just in 72 hours. This is one of the most important things to succeed on my career. The way that mentors showed their interest in our idea and how they supported us was incredible".
" We met so many people in the sectors that we study, they definitely helped us develop ourselves a lot through this weekend. And in these competitions, everybody wins, you get to learn so much and develop yourself to an extend where the limits are only yours", added Aissa, student of Informatics study programme.
Congratulations to all participants of "Portathon 2022"!
More about "Portathon 2022" – Port of Klaipeda.
© Photos Klaipėdos mokslo ir technologijų parkas.